The Textile District custom prints fabric by the yard for apparel, home decor, upholstery, quilting and crafts! Our fabric swatch kit and color library are handy tools to help guide you along the way.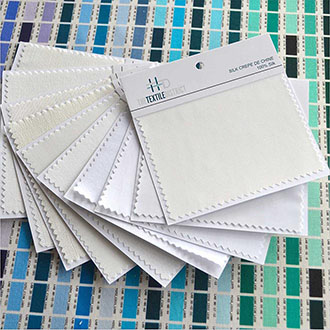 Ground Fabric Swatch Kit
17+ Fabric Options - Upholstery, Apparel, Home Decor, and More!
See and feel the quality and texture of our ground fabrics! Each ground fabric swatch kit includes a 5" x 5" unprinted (white) sample of the ground fabrics we offer: Silk Cotton Voile, Silk Charmeuse, Silk Crepe de Chine, Cotton Silk, Cotton Pima Lawn, Cotton Quilting, Cotton Sheeting, Polyester Micro Fiber/Spandex 4-way Stretch, Cotton Sateen, Belgian Linen/Cotton, Cotton Duck, Cotton Twill, Poly Linen, Cotton Sailcloth, Cotton Velvet, and Polyester Indoor/Outdoor fabric (500+ hours UV lightfastness).
Contact Us for Special Orders.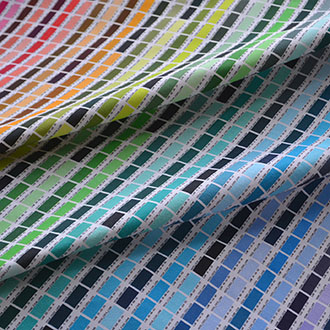 Color Swatch Library
Handy interior design tool to help guide color selection
Choosing color can be one of the more challenging aspects of any interior design project. Light reflects differently on surfaces and affects the perception of color. To help guide color decisions, The Textile District's Color Library prints to order on the ground fabric you choose.