Do you have a project in mind, but not sure where to start? With The Textile District's digital fabric printing and finishing process, you get to choose the designs and colorways you love first, and print by the yard on any base fabric we carry! Our eco-friendly, OEKO-TEX® certified process and colorfast, fiber reactive dyes ensure excellent print clarity, vibrant colors, and soft finish! As a finishing touch, we steam, wash and dry all natural fiber substrates to create production-ready fabric by the yard for apparel and fashion accessories, home decor, upholstery and furniture restoration, quilting, and more!
Whether you are a small batch manufacturer, interior designer, upholstery and furniture restoration professional, or do-it-yourself home decor or hobby enthusiast, call or email us today and let The Textile District help you create the perfect fabric for your next project, large or small!
Ground Fabric Swatch Kit
View Base Fabric Options for Apparel to Upholstery
Our ground fabric swatch kit is a handy design tool that helps you choose the most suitable base fabric for your project at hand. Each swatch kit includes a 5" x 5" unprinted sample so you can see and feel the quality and texture of every base fabric we carry, from silk to canvas.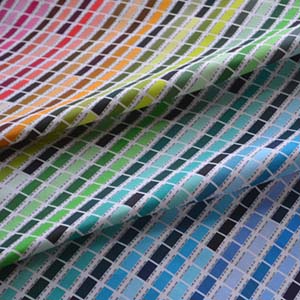 Custom Print Color Library
Handy interior design tool to help guide color selection
Choosing color can be one of the more challenging aspects of any interior design project. Light reflects differently on smooth versus textured surfaces which affects the perception of color. To help guide color decisions, The Textile District's "Color Resource Library" custom prints to order on any ground fabric you choose and represents a small selection of the infinite colors you can reproduce using digital printing technology!
---
How to Custom Print Fabrics - Special Orders
Proprietary Fabric Printing
Design and buy custom printed by the yard to suit your exact project needs, large or small! The Textile District offers high resolution digital fabric printing services for proprietary designs — custom print on any base fabric we carry, from cotton silk and cotton pima lawn to upholstery linens, and cotton or polyester canvas! All fabrics print to order in the USA, and ship FOB plant. You receive fabric by the yard that is production-ready for apparel, home decor, quilting, upholstery and furniture restoration, swim wear and more. Orders over 3 yards ship flat on a roll so there are no creases or folds to work around. Post treatment options are available, as well as double fold/roll put-ups for retail merchandising.
For more information about our proprietary printing services >> Contact Us