Unlike traditional fabric retailers where fabric collections are available in limited quantities and until sold out, The Textile District custom prints fabric by the yard to order, and our design collection is always available.
Every design, color way and base fabric combination can be printed as 12" x 12" swatches or one-yard up to 50 yards (and more) at a time on the same base fabric.
Our base fabrics range from lightweight cottons and silk for apparel, quilting and decorative accessories to heavier weights and textures suitable for home decor and upholstery. If you are looking for a fabric with a little stretch, our "Scuba" polyester blend has all the wicking and moisture control advantages found in performance sports apparel fabrics, plus a superior hand and feel.
Every yard passes through a state-of-the-art finishing process that produces a beautiful, soft and colorfast fabric that is ready to sew and enjoy!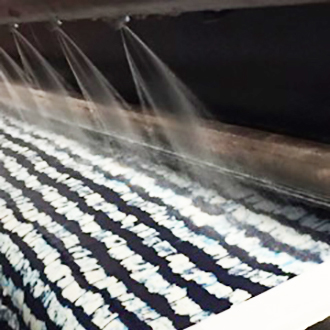 Eco-Friendly Dyes and Finishing Processes
Beautiful, soft and colorfast fabrics ready to sew.
Our custom printed fabrics arrive rolled flat on a tube so there are no folds or creases to iron out or work around. You receive a selvage-to-selvage quality-printed color fast fabric that is ready to sew.
Watch our video to learn more: