We are thrilled for the opportunity to work with the many talented artists, illustrators, painters and photographers across the United States and beyond! Their unique works of art combined with our digital fabric printing process opens the door to endless creativity and inspiration — for custom made clothing and fashion accessories to upholstery, home decorating, quilting, crafts and more!
Each design professional brings a unique approach to color, design and style, and when coupled with The Textile District's wide range of base fabrics, we are proud to offer custom printed fabric by the yard that is flexible enough to meet the varied needs of our customers.
We hope you explore and enjoy the profile pages showcasing each of the design professionals who work with The Textile District!!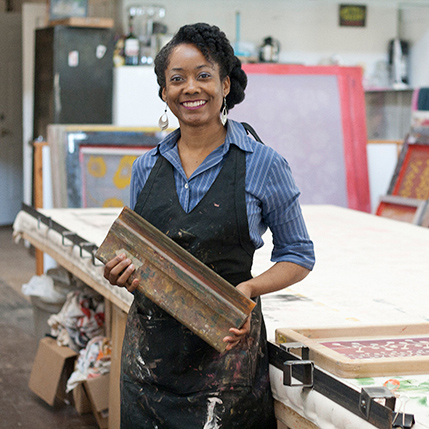 We are thrilled to welcome Shayla Johnson, an incredibly talented artist and maker from the Detroit area with a love for all things pattern, and the latest textile designer to join us on The Textile District!
Trained in product design at Georgia Tech and The School of the Art Institute of Chicago, Shayla started Scarlet Crane Creations to create stylish, high-quality products featuring simple watercolor and vector art that is used to create contemporary patterns. Shayla's unique surface patterns range from free flowing florals to abstract textures in order to produce stylish and sophisticated collections to serve the handcrafted giftware, home decor and fashion accessory markets.
Scarlet Crane Creations also operates as a dedicated micro-batch textile printing house that specializes in hand-printed fabrics used to create home decor products and lifestyle accessories.
With a focus on quality and value, Amy Moore's unique style keeps things fresh, sophisticated, and unpretentious while staying true to comfort, function, and beauty! From providing assistance with construction and renovations, redesigning an entire house to selecting art for a gallery wall, afmDESIGN works at all levels to meet her client needs.
If you prefer to shop for fabrics by color, we show you how to mix and match prints by coordinating colors in her designer profile on our blog.
You can also shop Amy's complete design offering by filtering our fabric catalog by the afmDESIGN brand!